About AMA
Find more about the founder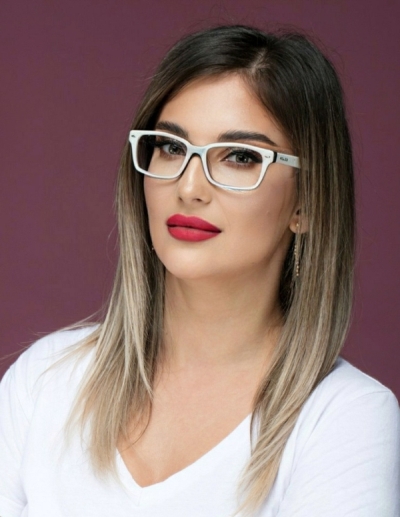 Lorena Vilcu Cioboata is a well-known Romanian make-up artist and trainer, and founder of the brand AMA Pigments. Originally from Craiova, Romania, Lorena now spends her time training make-up students, raising her daughter, and creating cosmetic pigments. A mix of industry knowledge, passion for make-up, and expertise have led Lorena to create a line of cosmetic pigments, primarily in response to a gap in the Romanian cosmetic market, for high-quality, diverse and affordable make-up pigments.
The collection is organised in 12 categories. When picking the predominant colours for each collection, Lorena who is passionate about the mysteries of universe, researched to find out what the main colours for chakras are, and created pigments starting from these hues. The names of the collections are: Prime, Genesis, Enigma, Elixir, Secret, Vision, Spirit, Phoenix, Nature, White Star, Black Star and Nebula.
Brand philosophy
Be AMA(zing)!
It all comes to helping women feel amazing every day.
AMA Pigments is a professional pigments provider that offers make-up artists with the tools needed to create outstanding make-up. Since day one, we create high-quality pigments for clients in Romania, and now we want to expand our client base to the entire Europe. We think all women are amazing, and colours allow them to reveal their inner beauty.
AMA Pigments' mission is to share the love for colours and to encourage women to use make-up to express their artistry. Our brand encourages everyone to try pigments and to discover the products make-up artists enjoy. We have always collaborated with industry specialists to stay on the avant-garde.
AMA Pigments believes that colours have the power to influence moods and emotions. By providing an ample collection of pigments, our brand encourages make-up artists to discover their self-identity, and reveal it to the world, through the looks they create.
AMA Pigments is lively, sparkling, vivacious, all-embracing, and enthusiastic. We think that make-up is about balance. When the shades on the eyelids are bold, the lashes are subtle to let them shine. For us, make-up is a form of art, and our goal is to provide make-up artists with the needed tools and colours to express their vision. Make-up can capture moments, and to snatch the voluptuousness of the moment, our pigments combine dozens different mica particles. If we could collect dust from the stars, we would put it into a bottle to sprinkle it on the skin.
AMA Pigments shares the love for colours through The Academy of Makeup Artists. The creator of the brand trains novice make-up artists to uncover their maximum potential. She guides them to find their unique talent and to merge it with artistry, to paint on the canvas called skin.
Combining colours, inspiring from the universe, promoting art and sharing knowledge are the very heart of AMA.
Our greater purpose is to be a leading authority in the European make-up industry.
We aim to empower make-up artists to reveal their creativity by offering them an ample range of cosmetic pigments.
AMA Pigments sponsors national beauty events and collaborates with well-know make-up artists.